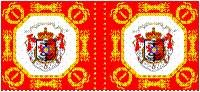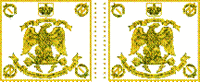 Allegiance
Edit
A Line Infantry Regiment of the The Grand Duchy of Kleve Berg, a client state of the French Empire.
24th April 1806 – The First Berg Infantry Regiment established in Dusseldorf from The Bavarian Kinkel Infantry Regiment and a Battalion of Nassauers.
August 1808 – Regiment reorganised into the new 1st and 2nd Infantry Regiments.
1810-11 – Stationed in Catalonia
Organisation
Edit
April 1806 – 4 battalions, each with 6 companies of 100 men.
October 1806 – Regiment expanded to have 6 battalions.
1808 – 3 battalions with 6 companies of 120 men.
1809 – 2 field battalions with 6 companies (1 Grenadier, 4 Fusilier and 1 Votigeur) of 120 men + 1 Depot-Kompagnie.
January 1810 – Becomes part of the 3rd Division of the VII Corps of the Grande Armée
 Uniforms (Approx.)
Edit
Company
1 (Gren)
2 (Fusil)
3 (Fusil)
4 (Fusil)
5 (Fusil)
6 (Volt)
Facings
Sky Blue
Ad blocker interference detected!
Wikia is a free-to-use site that makes money from advertising. We have a modified experience for viewers using ad blockers

Wikia is not accessible if you've made further modifications. Remove the custom ad blocker rule(s) and the page will load as expected.